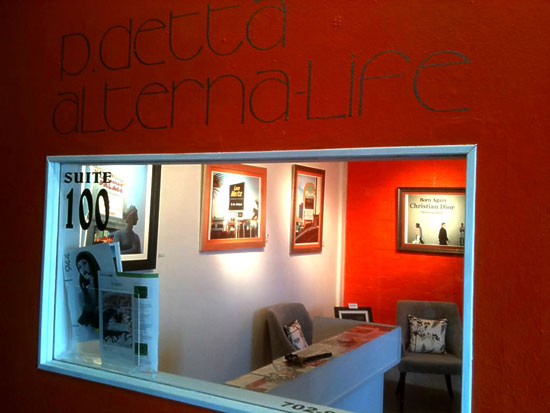 Exterior of Laura Henkel Fine Arts
In the February 1877 issue of Scribner's Monthly, some sage editor opined that "When a person prefaces his opinion of a picture or of a piece of music with this formula, – 'I don't profess to know anything about art (or music), but I know what I like.' – then look out for dogmatism of the most flagrant sort."  Well, I like to think that I know a little something about art (and music).  Ironically, as time goes on, I seem to have less of a grasp on what I definitively like, and often find myself wondering if something is brilliant or simply crap dressed-up as crappé.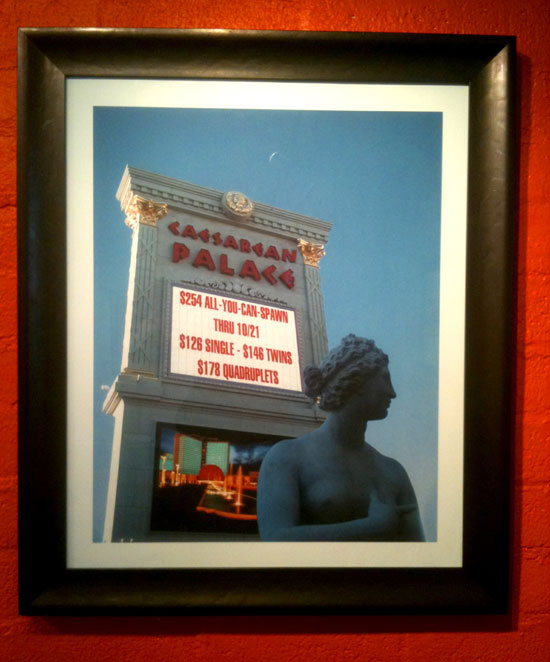 CAESAREAN PALACE by P-Detta
Fortunately, this was not the case when Jacob and I went to The Arts Factory in fabulous Downtown Las Vegas to view the Alterna-Life exhibit by artist P.Detta, at Laura Henkel Fine Arts.  I knew right away that I was both titillated and amused by the wry juxtapositions of immediately recognizable corporate logos and facades with witticisms displaying the artist's discernable thought process that can perhaps best be described as tongue-in-cheek chic.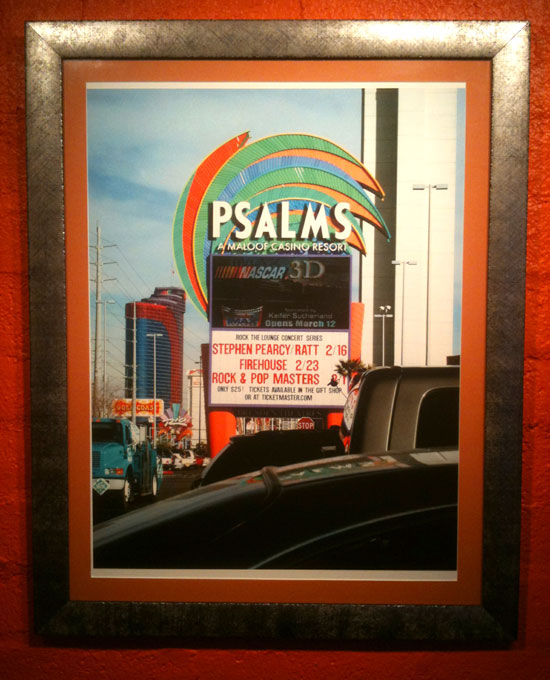 PSALMS by P-Detta
Whether it's Marlon Brando sliding a tub of butter-substitute up the thigh of Maria Schneider in I Can't Believe It's Not Tango!, a wry satire of one of cinema's most famous sex scenes; or the bright wash of color in IOU•GOD (an actual license plate shot by the artist), P.Detta's skill both as a photographer and a gifted digital manipulator of said photographs, is so deft as to be secondary to the work (which is as it should be).
Two different sub-collections deal with a pair of the artist's obsessions – Las Vegas and Fashion.  The first includes the works Psalms, where just the insertion of one letter takes one of Las Vegas' best known centers of hedonistic pleasure and transforms it into the resort of choice for visitors from the Bible Belt; and Caesarean Palace, where the city's quest to provide the utmost in extreme amenities delves into the (as yet untapped) obstetrics-hospitality market.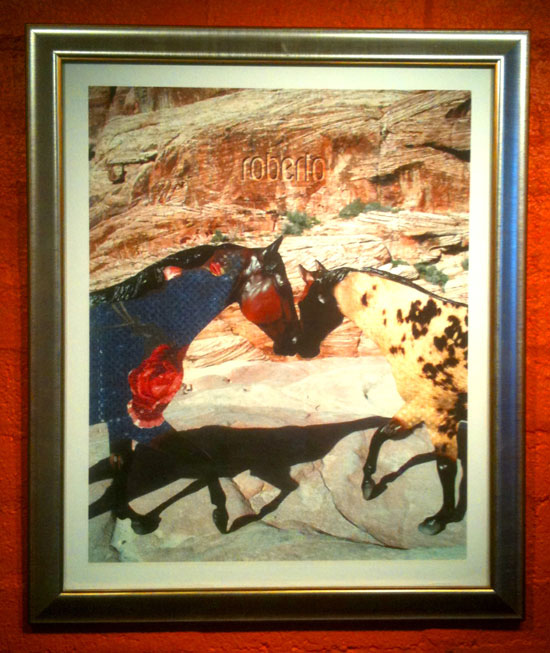 CAVALLI by P-Detta
The latter sub-collection features a trio of pieces.  Born Again Christian Dior takes-on the subject of the fashion designer as deity while cleverly co-opting the "Before and After" template from those back-to-back bastions of American pop-culture, Wheel of Fortune and Jeopardy (i.e." Eggs Benedict Arnold" or "Preparation H L Menkin").  Cavalli features the designer's name/logo seemingly carved into the canyon, with plastic horses nuzzling as a statement of how our society – especially in Las Vegas, and especially with regards to fashion – are increasingly of a plastic, polished, and posed personality.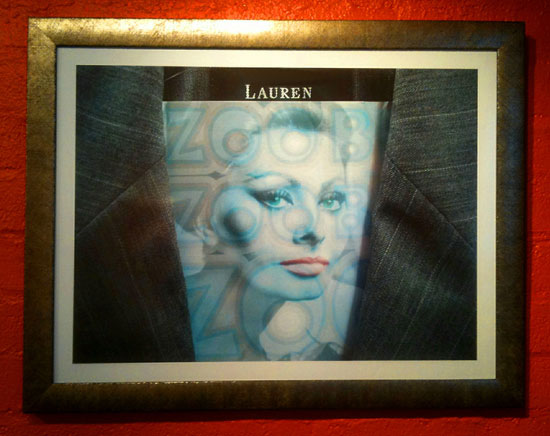 LAUOREN by P-Detta
Finally, my favorite piece in the show, Lauoren, features a decidedly masculine Ralph Lauren blazer wrapped around the spectacularly feminine visage of Sophia Lauren (appearing remarkably similar to the bust of Nefertiti).  Her obviously photo-enhanced eyes seem to follow the observer around the room.
Like all of P.Detta's work in the Alterna-Life show, Lauoren is at once creepy, witty, color-saturated, and pokes fun at the establishment.  It doesn't matter worth a damn what I might or might not know about art.  As with all of the art I adore, I know I like it, because it makes me smile. 

Alterna-Life by P.Detta
Laura Henkel Fine Arts at The Arts Factory
107 East Charleston Boulevard – Suite 100
Through Novmeber 30th 
Click HERE for more info

Get into it!