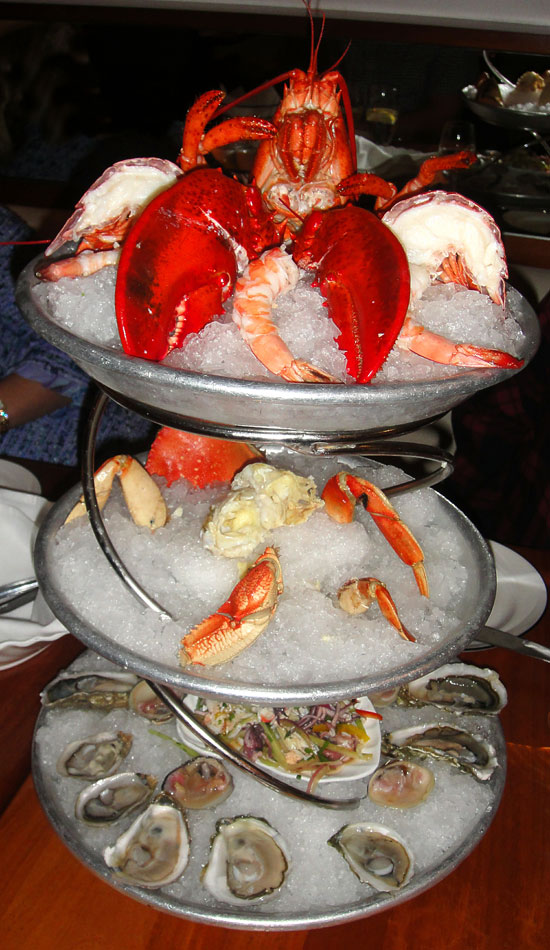 Large Chilled Shellfish Sampler
I pride myself on getting out and about.  Unfortunately, for whatever reason, there are venues that I just never seem to get around to trying.  Such has been the case, until tonight, with Rick Moonen's RM Seafood at Mandalay Bay Resort and Casino.  It may have been a long time coming, but it was well worth the wait.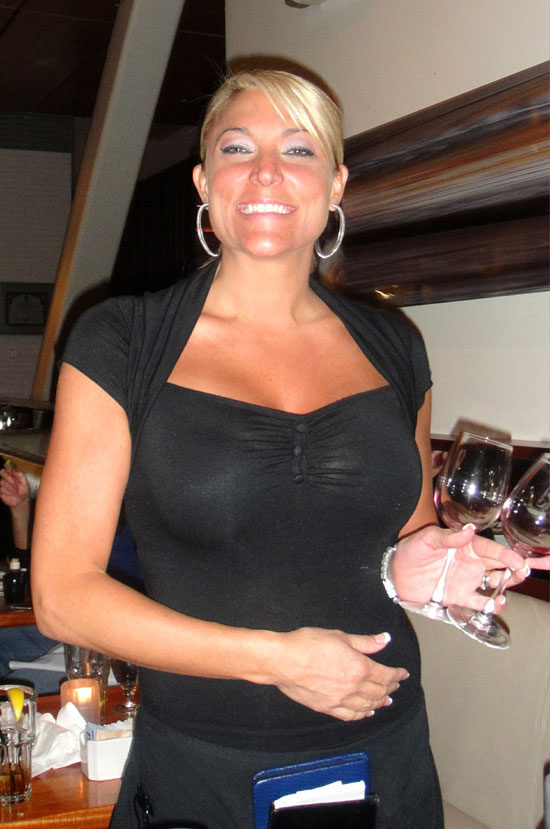 Heather
As it turns out, RM Seafood is essentially two restaurants in one – the ground floor is more casual, with a terrific raw bar, and regional favorites from both coasts; while the upstairs leans more toward "fine dining" and is the ideal setting for Moonen's exciting multi-course tasting menus.
Tonight, we grabbed dinner, downstairs.  First of all, our server, Heather, was delightful.  She was upbeat (without being too perky), knew the menu intimately, and rocked a smokin' bod (hey – just because I don't pray in that church doesn't mean I can't appreciate the architecture).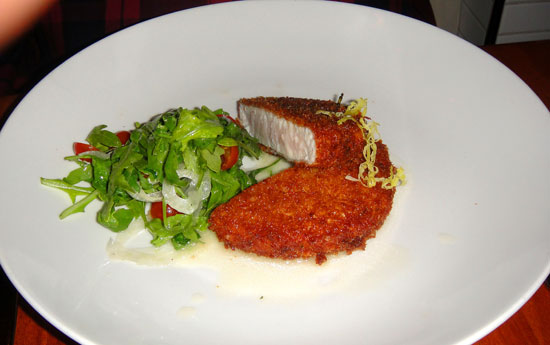 Pacific Swordfish "Milanese"
We started with the Chilled Shellfish Sampler.  This comes in three sizes, but like movie theaters and Starbucks, instead of small, medium and large, the sizes are dubbed "Small," "Large," and "The Kitchen Sink."  We opted for the "Large" for the four of us, which included one lobster, a dozen oysters, a half-dozen clams, a half-dozen shrimp, some mussels, a Dungeness crab, and a bowl of RM Escabeche (Moonen's cilantrified take on ceviche).  It was all fresh, cool, and tasty.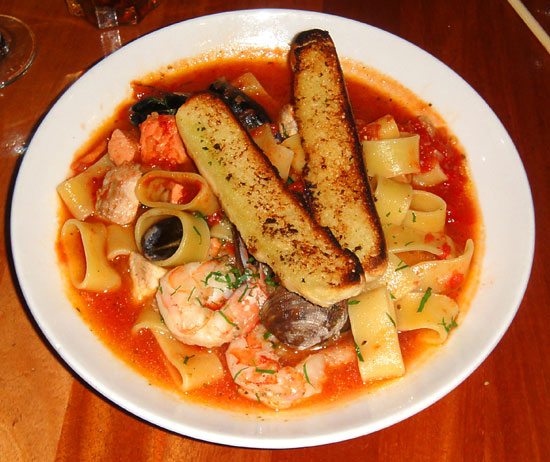 RM Style "Cioppino"
Everyone else at the table chose to order à la carte, whilst I opted instead to take advantage of the handy three-course Prix Fixe Dinner Menu.  So, while my dad ate his "BLT" Iceberg Salad with Bacon, Sweet 100 Tomatoes, Blue Cheese, and Buttermilk Ranch Dressing, I was sipping on Rick's White Clam Chowder with Potatoes, Littleneck Clams, and Fresh Dill.
The entrée course found me on my second soup when I was served a piping-hot bowl of RM Style "Cioppino" with Calamarata Pasta, Mussels, Clams, King Crab, Shrimp and Fish as well as a pair of garlicky bread sticks (I know, I know, it's technically a "stew" but when you write about it, you can call it whatever you want).  It might have been slightly heavy on the saffron for my tastes, but it was pretty damned good, and I dug it.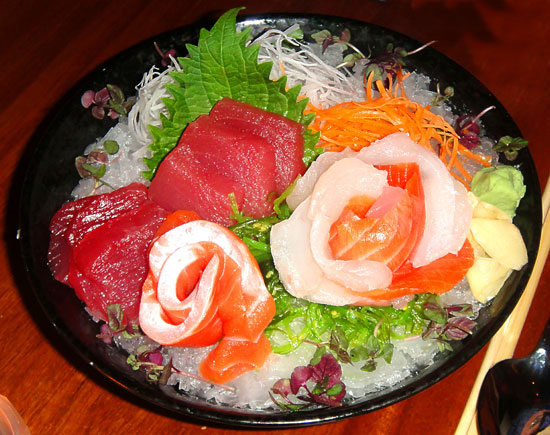 Chef's Choice Sashimi Plate
The rest of the table enjoyed such diverse entrées as Wild Alaskan King Salmon with Grilled Corn Succotash, Lime Butter, and Piquillo Peppers; Pacific Swordfish "Milanese" with Wild Arugula, Shaved Fennel, and Lemon Vinaigrette; and the especially picturesque Chef's Choice Sashimi Plate (actually served in a large bowl atop a heaping pile of crushed ice) with Arctic Char from Iceland, Albacore, Bigeye Tuna and Walu from Hawaii, and Halibut from Alaska. 
Since my Prix Fixe Menu came with dessert, I was brought a helping of Rocky Road Pudding with Toasted Marshmallows, Brownie Bits, and Peanuts.  By this point, we were all pretty full, so we passed it around the table and nibbled upon it while sipping our coffee.
It was a lovely dinner in a lively setting made all the better by an exceptional server; and really – what's better than that?

Rick Moonen's RM Seafood (Lower Level)
Mandalay Bay Resort & Casino
Open Daily from 11:30am – 11pm
Get into it!