I've always taken issue with restaurants that tout something on their menu as being 'famous,' especially if I've never heard of it.  (Nana's World-Famous Cookies?  Not for nothing, but I get around, and if I've never heard of you or your Nana, how world-famous can her cookies be?)  And when I get snookered into trying this allegedly renowned dish and find that it's nothing to write home about; well, that really gets stuck in my craw.
So, when I first supped at Delilah, the gorgeous Todd-Avery Lenahan-designed lounge and supper club at Wynn Las Vegas, last Thursday, and was handed a menu, one of the first things that jumped out at me—amongst such highfalutin fare as the Wagyu Beef Wellington (12oz. filet mignon, herbed crepe, porcini mushroom duxelles, in a puff pastry with Madeira wine jus), and the Caviar Service (noble Russian Osetra caviar, tiny waffles, whipped crème fraîche, parsley, shallot, and eggs mimosa)—was Delilah's Famous Chicken Tenders, which immediately made me think something along the lines of "Mmhmm…"  But, for once, the fame declared on that menu lived up to the hype, and then some.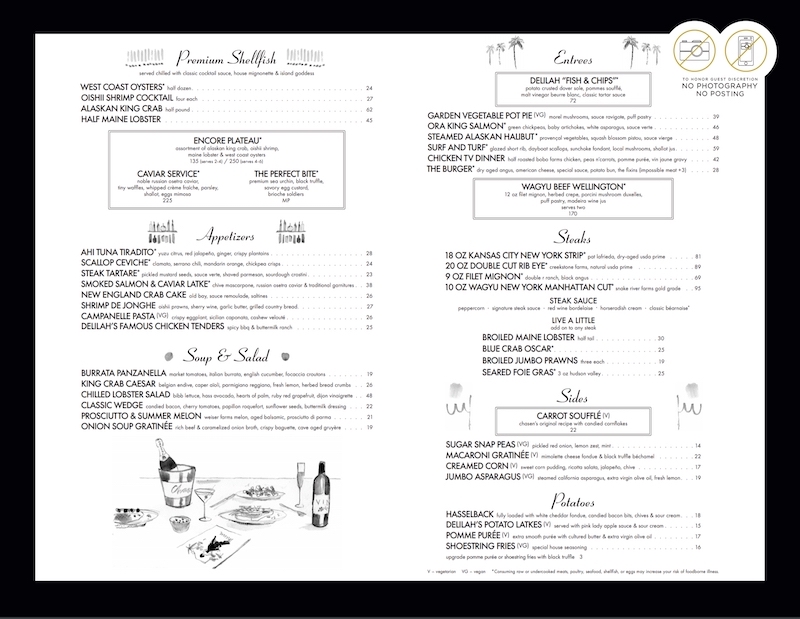 I didn't know whether there was a certain type of chicken being used, or if the crispy breading was a well-kept secret (though I intended to sleuth out the answers to both); but what I did know was that each tender seemed to be one enormous piece of breast meat lightly breaded and fried crispy, without losing any of the chicken's juicy succulence. 
Now, on a mission, I sought out Delilah's Executive Chef, the charming and talented Joshua Smith (whose culinary skills last tantalized my tastebuds when he was helming the kitchen at Michael Mina's Bardot Brasserie at Aria), to inquire about what spin he'd put on Delilah's popular recipe; and he assured me that the only difference between the Chicken Tenders served at the Delilah mothership in West Hollywood and those served at Wynn is that Chef Josh uses the decidedly top-shelf Mary's Organic Free Range Chicken.
Chef Josh continued by explaining that Delilah's Famous Chicken Tenders come with a pair of dipping sauces, both of which are made in-house, from the same recipes as those used in WeHo; a Buttermilk Ranch (prepared with a hint of Dijon mustard) and a Spicy BBQ (made with a dash Chinese duck sauce, honey and a spicy paste made from fresh Fresno chilis and dried Cascabel chilies), filled with that essence of deliciousness referred to in Japanese as umami.
And while some people like to keep things nice and neat, I rather enjoy getting a bit messy if there's a reason to, and with those dual dipping sauces, as with Delilah's Famous Chicken Tenders, themselves, I find myself inspired to riff on The Monkees: Then I took a taste, now I'm a believer!
Delilah opens for business, on Wednesday, July 14; and, seeing as the place is already fully booked on weekends through October, I'd strongly suggest you make your reservations, tout-de-suite.
Delilah's Famous Chicken Tenders
Delilah | Wynn Las Vegas
Click HERE for info
Get into it!
#DelilahLV