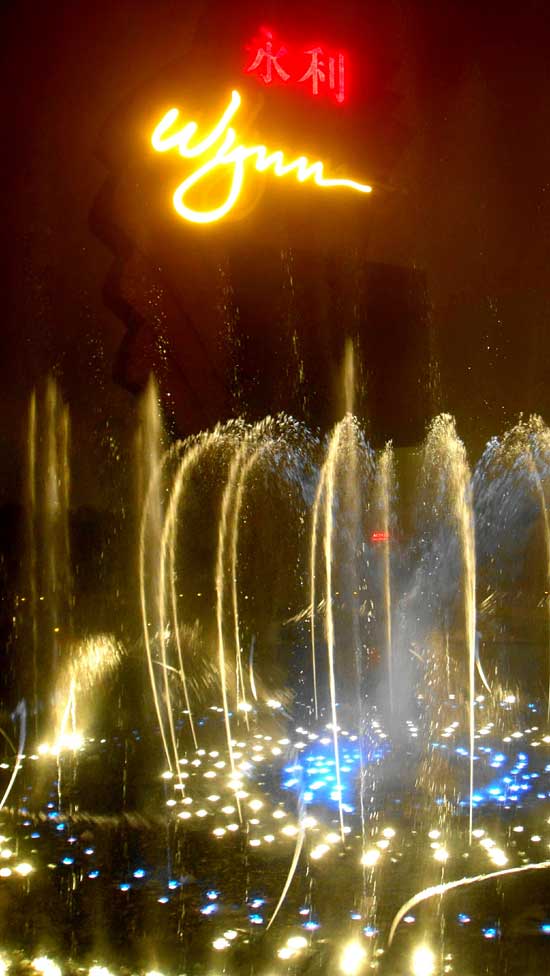 Performance Lake at Wynn Macau seen from Il Teatro
I love a good show, almost as much as I adore a good meal. When I can have both at once, I'm a very happy guy. So, it's no surprise that when Jacob and I finally arrived in Macau and had one dinner for which to select a restaurant, we immediately chose Il Teatro. I mean, the name is Italian for "the theater" after all. The brainchild of Chef du Cuisine Anthony Alaimo (whose bona fides include training under the famed NY chef, Anthony Bourdain), Il Teatro's setting at Wynn Macau turns what might anywhere else have been just another Southern Italian restaurant with an exposition kitchen into a stage for theatricality and stunning visuals.
Entering the restaurant involves taking a short elevator ride up one floor from the lobby, so as to take prime advantage of the views of Performance Lake, with its choreographed fountains (while based on Las Vegas' Fountains at Bellagio which Steve Wynn unveiled in the late '90s, Performance Lake takes things a bit further, and incorporates colored lighting and fire to make for a truly multisensory experience). The dining room, itself, is laid-out like an amphitheatre, so that every table can make the most of the floor-to-ceiling wall of windows.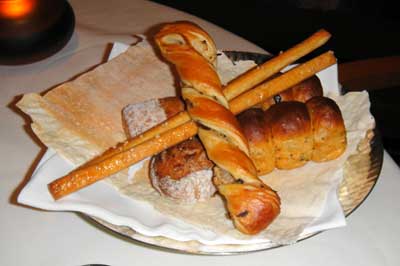 Bread at Il Teatro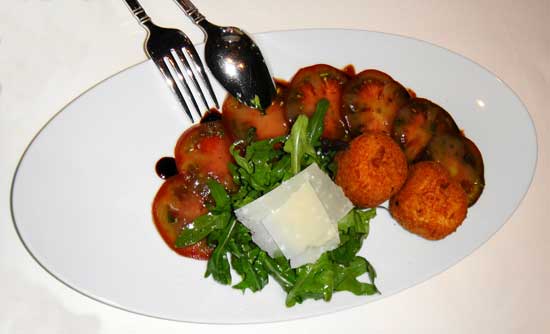 Mozarella di Bufala in Corozza
But as good as the views from Il Teatro are (and they are stunning), it's really about the food. We started with a beautifully arranged basket of breads served with balsamic vinegar and olive oil. Then we dug into a Mozzarella di Bufala in Corozza (a fried fresh mozzarella served over heirloom tomatoes with 25yr balsamic vinegar and extra virgin olive oil). Who doesn't like a salad topped with fried cheese? Yum!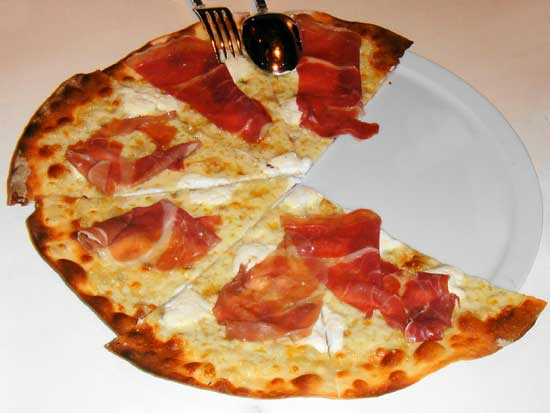 Pizza Bianca
After this, we hungrily tore apart the Pizza Bianca (a thin-crusted pizza covered with shaved Parma ham and roasted garlic oil). It was crispy, it was zesty, and it hit the spot. Actually, it was among the best pizzas I've ever enjoyed (and in the most unlikely of locales; who knew?) I enjoyed this even more than I had the fried cheese salad – and that's saying something.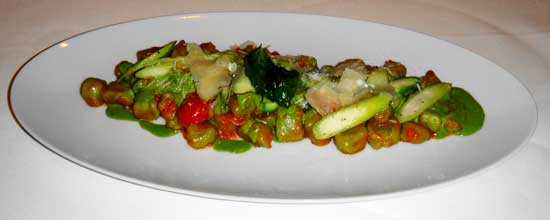 Gnocchi Patate e Basilico al Pomodoro, Crema di Pecorino e Asparago
Now, we received our two "main" courses. Since we were too tired to really chow-down, we really just tried some pastas – and Boy, I'm glad we did. First was the Gnocchi di Patate e Basilico al Pomodoro, Crema di Pecorino e Asparago (a basil potato gnocchi with roasted tomatoes, Peccorino cheese, and asparagus cream), and people, when I say that it was tender, al dente, light, and yummy, I'm doing it a disservice. It was all one hoped for and more.


Rigatoni al Pomodori e Porchetta di Maiale
Finally, we had a Rigatoni al Pomodori e Porchetta di Maiale (a rigatoni bolognese with a braised Korobuta pork brasciole with durum wheat semolina pasta). Oh dear. I don't like to speak in hyperbole, but this combined a chic version of lasagna with pork chops in a sauce that danced on the palate. It was hearty, flavorful and the pasta was just right.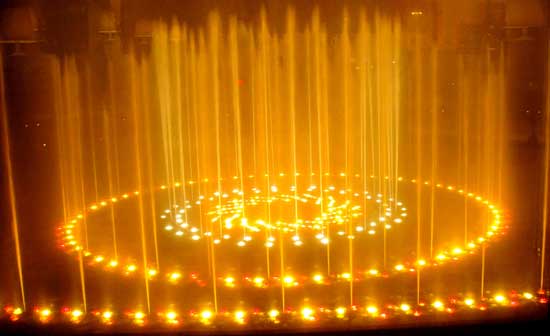 Performance Lake puts on a show at Wynn Macau
Throughout the meal, I really enjoyed the musical selections, which ran the gamut from opera ("O Mio Babbinno Caro" from Puccinni's opera, Gianni Schicchi) and musical theater (Joel Grey and Liza Minelli singing "Money Makes the World Go 'Round" from Caberet) to contemporary film themes (Bonnie Tyler's "Holding Out for a Hero" from Footloose) and theatrical standards (Frank Sinatra giving his signature spin to "Luck Be a Lady" from Guys & Dolls). Watching the ways that each song received its own special treatment with lights, color, water, and fire was an incredible visual accompaniment to the food we were savoring.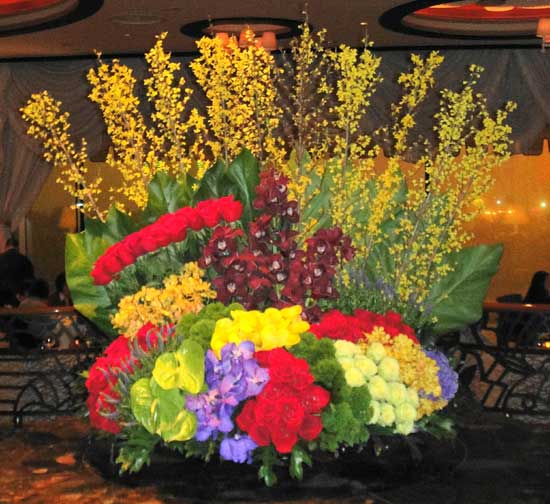 Gorgeous floral arrangement at Il Teatro
All the while, the service was impeccable, and we had a meal that I would happily recommend to anyone. The ambiance is sultry and romantic, the views over performance Lake are like nothing else you'll ever see, and the food is worth salivating over. The next time you're in Macau, get into Il Teatro at Wynn!