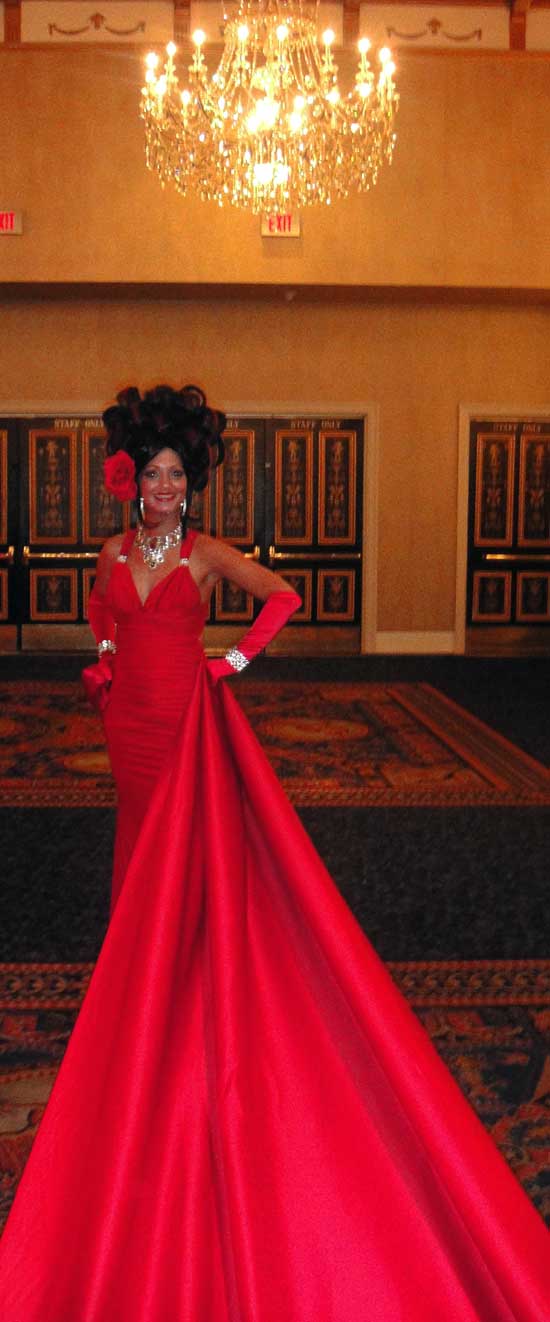 Red Carpet Gown
The gays love a party.  Not that our straight brothers and sisters don't; but for us, it's kind of embedded in our DNA.  We get to dress-up, have a cocktail or five, mingle with friends, ogle pretty people, and – if you'll pardon the expression – kick-up our heels and have a gay-old time (it's just that, at our parties, sometimes the boys are more fond of the heels than the girls…).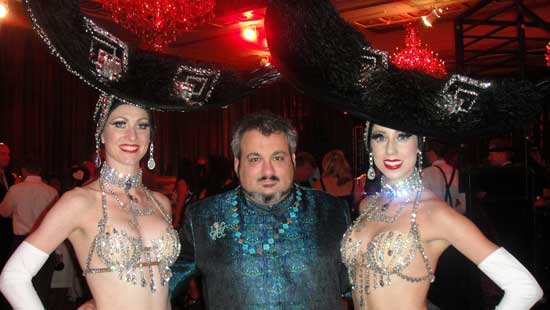 Shulman betwixt a pair of JUBILEE Showgirls
But none of this is new, so why write about it?  Well, Saturday night was the 5th Annual Las Vegas Gala Dinner for the Human Rights Campaign, at Paris Las Vegas, and it was a humdinger of a soirée.  The theme of the evening was "No Excuses" and a camera crew was on-hand, filming guests as they arrived, asking what "no excuses" meant to them.  I didn't notice the camera, which is fortunate, because when I heard about it, the first thing that popped into my mind was No Excuses, the cheesy denim line from the '80s and '90s, modeled by such notorious "other women" as Donna Rice, Marla Maples, and Paula Jones.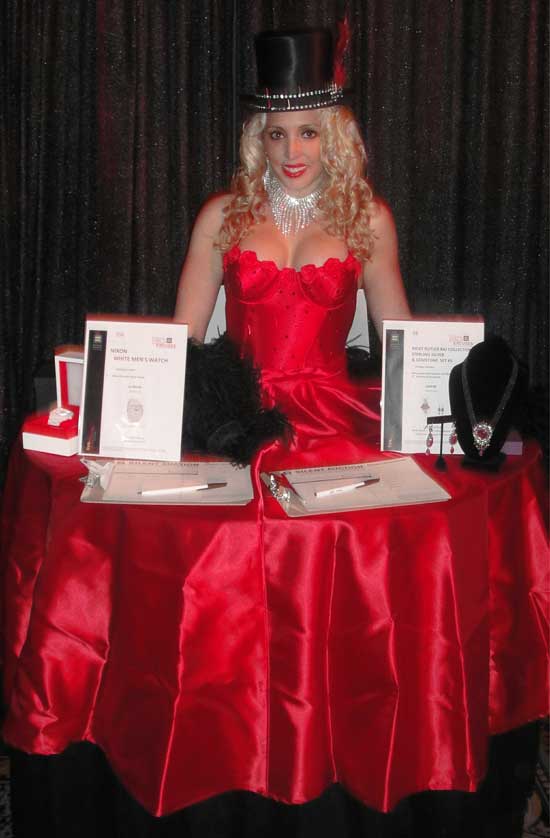 Silent Auction Model-Table
The ambience kicked-in on the approach, with step-and-repeats, showgirls, ushers in red hats, and a literal red carpet gown.  I mean, we've all seen dresses that were meant to be worn on the red carpet, but when was the last time you saw one that was the red carpet?  Silent auction items were displayed around the room on tables worn by models (imagine flat-topped hoop-skirts), while PEEPSHOW heartthrob Josh Strickland struck poses while modeling the jacket that had been donated by Ted Baker.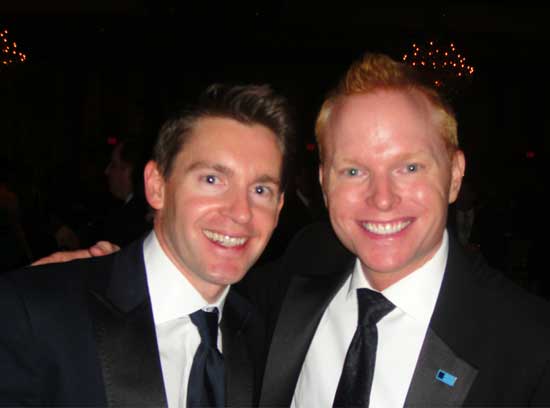 Josh Miller and Steve Amend
I was delighted to have been asked by Josh Miller and Steve Amend to join them at their table, along with Secretary of State Ross Miller (a previous recipient of the HRC Award), Tricia Benson (HRC's Director of Foundation Relations), Jenna Morton (who is as philanthropic as she is beautiful – which is saying a lot!), and Jenna's escort for the evening, N9NE Group's Raul Daniels.  Also seen around the room were Todd Hanshaw and Michael Bertetto from Wynn|Encore, Sean McClenehan, Gen-Y philanthropist Gavin Goorjian and Dustin Carlson, Vegas' premier LGBT nightclub promoter Eduardo Cordova, Harrah's honcha Jan Jones, Van Cleef's dapper Rick Moore, and the ADL's Jolie Brislin.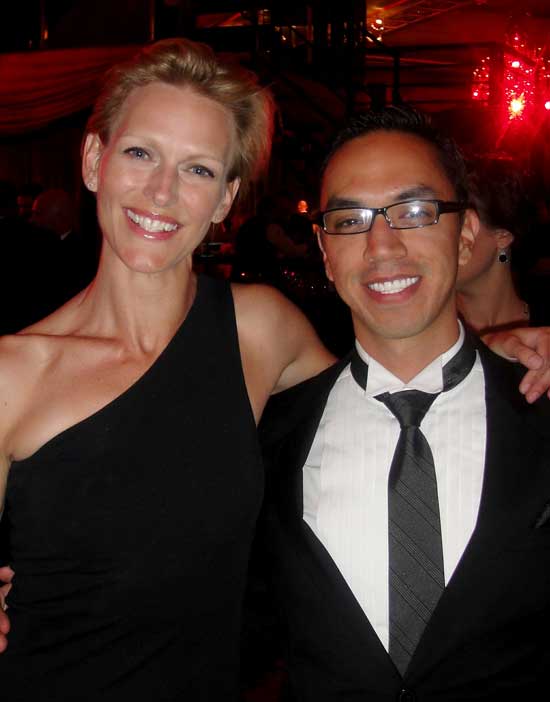 Jenna Morton and Raul Daniels
KLAS-Channel 8 Anchor Chris Saldaña reprised his role as the evening's emcee, and introduced everyone, including Vegas-based tween show-choir On with the Show, the event's co-chairs AJ Jenveja and Frank Gregory, Reverend Dr. Yvette Flunder, U.S. Congresswoman Dina Titus (who was a surprisingly entertaining speaker), and HRC National Field Director Marty Rouse.
Then came the highlight of the evening: the presentation of the two awards.  First, the HRC Community Leader Award was bestowed upon Candice Nichols, Executive Director of the Gay & Lesbian Community Center of Southern Nevada, who gave a touching acceptance speech.  Then, after a video presentation that included testimonials from U.S. Senator Harry Reid, Debra J. Nelson (VP of Corporate Diversity, Communications & Community Affairs for MGM Resorts International) and the ever-regal Punam Mathur (of NV Energy), the HRC Pioneer Award was presented to Tom Skancke, founder of HRC Las Vegas and a former member of the HRC's National Board of Directors.  Tom, who's as well-known for brevity as I am, gave a poignant speech imploring each of us to support those politicians who support diversity.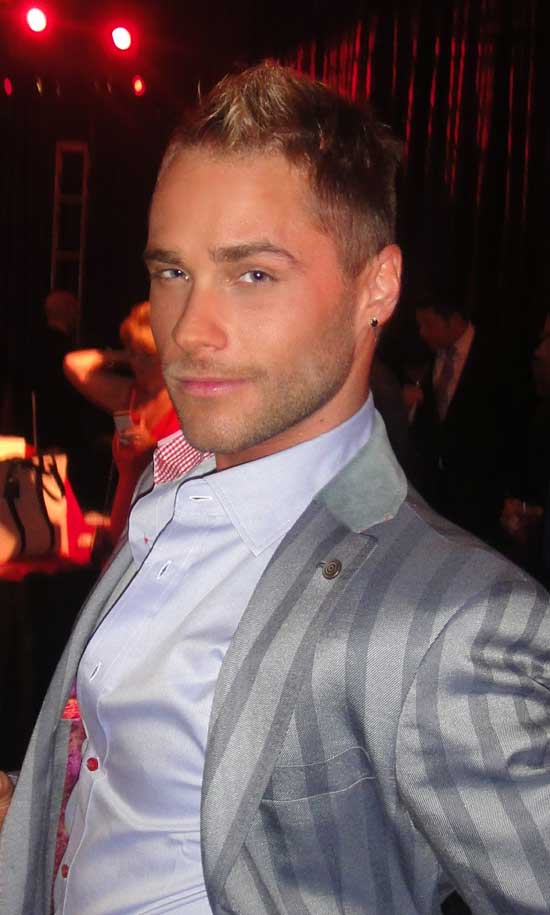 Josh Strickland
After the speeches came the night's entertainment, including a great routine from comedian Vinnie Favorito (who headlines each night in Bugsy's Cabaret at Flamingo Las Vegas) that had a slew of us making plans to see his show sometime in the near future; as well as Human Nature, the Smokey Robinson-produced quartet of Aussie boys singing Motown hits who perform at the Imperial Palace.
In all seriousness, though, I enjoy this event because it instills in me a sense of hope, and the promise that comes when people band together for a common goal (overturning something that's just so damned absurd).  Now, before I'm arrested by the Schmaltz Police, I bid y'all adieu.
Oh!  One more thing…  I think it merits mentioning that three of the thirteen national Foundation Partners for the Human Rights Campaign Foundation are based here, in Las Vegas.  Way to go, Vegas!  (And thanks for representing, Dad!)
(PS – Cheers to the banquet team at Paris Las Vegas for a fantastically prepared piece of lamb!!!)