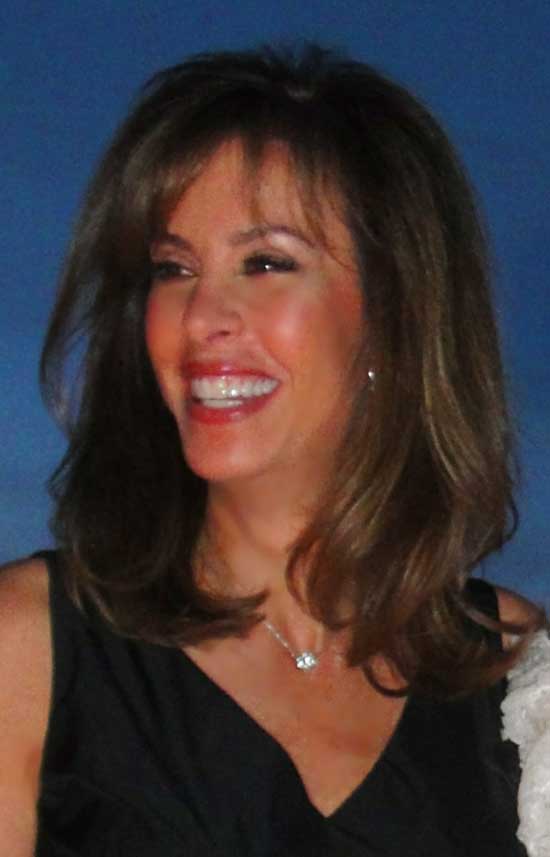 Sheryl Goldstein
On Saturday night, 30 couples converged at the home of Sheryl and Rob Goldstein for a special evening to kick-off the Nathan Adelson Hospice's annual "Flair for Care" luncheon.  "But you said the event was in the evening…"  Yes, I did.  (And thanks for paying attention.)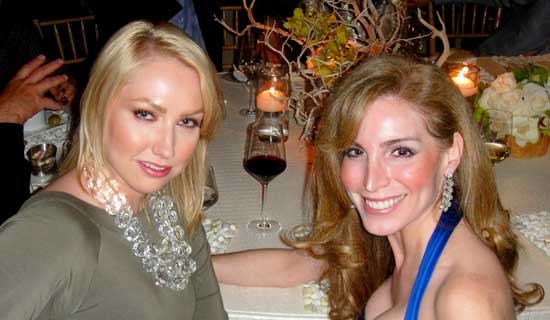 Audra Hendley and Kimberlee Hyp
The event, served as an intime pre-party of sorts, allowing guests three things.  First, to check-out the Goldsteins' magnificent home (the very one that graced the pages of Architectural Digest in December 2007).  Upon entering Chez Goldstein, it dawns upon anyone who knows them that this home (designed by Thomas Pheasant) is the perfect representation of its owners: smart, stylish, and (above all) tasteful.  It's right out of – well, a layout in Architectural Digest.  It is also the perfect backdrop for a mind-boggling art collection that includes original works by Ross Bleckner, Gerhard Richter and Cy Twombly.  I could go on, but you're better off just reading about it in Architectural Digest.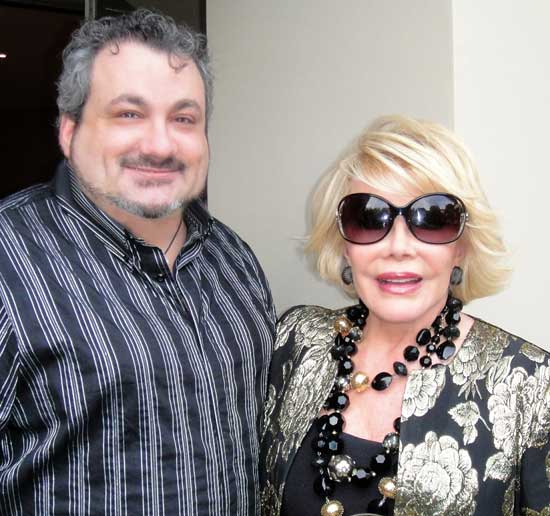 Shulman and Joan Rivers
The second big draw was a chance to meet the inimitable Joan Rivers.  Rivers, star of stage, screen, and the subject of the upcoming documentary Joan Rivers: A Piece of Work (premiering at the San Francisco International Film Festival on May 6th at the Castro Theatre) was in Las Vegas performing the April run of her concert series Joan Rivers: Live at the Venetian, and was stopping by the party for a quick how-d'you-do before her 8pm curtain in the Venetian Showroom.  She was cute, funny, brash, and – even in heels – even more petite than I remembered from when last we'd posed together (a few years ago when she headlined the WP United Luncheon).  Needless to say, I pressed right up into Miss Rivers, and her assistant graciously took our photo (but not before Joan snapped at me to stand-up straight).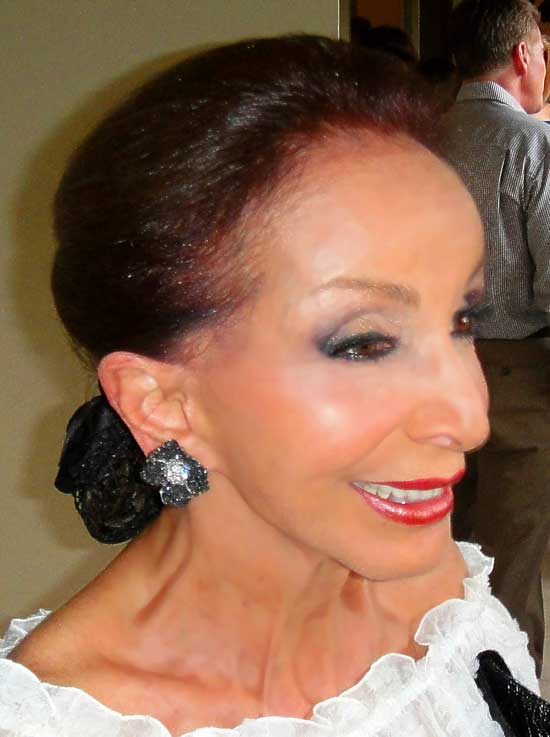 Susie Molasky shows-off the amazing de GRISOGONO earrings
The third  reason for the affair was for attendees to get an up-close and personal look-see at the pair of dazzling earrings by haute joaillier de GRISOGONO, that are the grand-prize in the Opportunity Raffle at the annual "Flair for Care" luncheon, taking place at Wynn Las Vegas on Wednesday, May 26th.  The earrings (that graced the ears of Susie Molasky for the evening) are comprised of 7.21 carats of diamonds and 16.58 carats of black diamonds, set in a figural flower design.  They are valued at $76,000, and will be making for one pair of incredibly happy ears, come May 26th.  Special shouts-out to long-time Hospice supporter, Bob Frank (who arranged for the earrings' donation), and de GRISOGONO founder and designer, Fawaz Gruosi!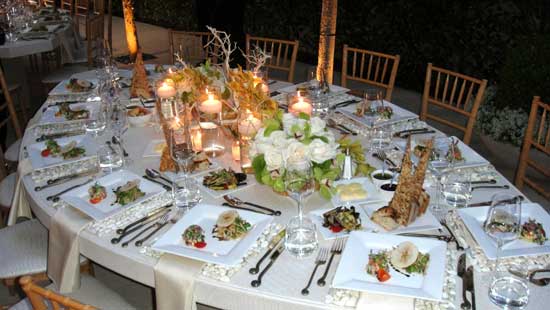 Tables designed by Sheryl Goldstein and Destinations by Design
Dinner was served outside on the veranda, by the Infinity pool, overlooking the golf-course at TPC.  The delectable meal was prepared by Chefs David Robins and Eric Klein of Wolfgang Puck Fine Dining Group, and was yummy from start (potato knishes) to finish (berry cobbler) – as well as everything in between (succulent CUTs of chicken and beef tenderloin).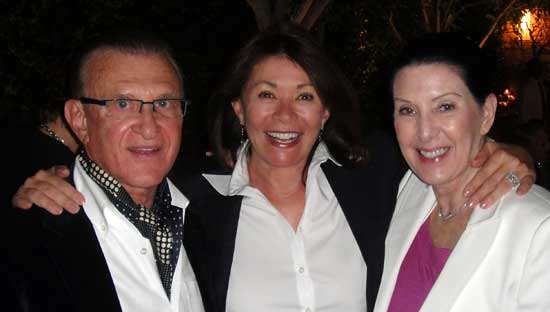 Dr. Joel Lubritz, Gloria Fine and Carol Lubritz
Everyone had a marvelous time.  Joan was a hoot, the food was wonderful, the company divine, the setting spectacular, and I am now most confident that beaucoup raffle tickets will be sold for an astounding raffle item.  As I remarked to our hostess, the only downside to the evening was that it simply served to underline how truly few and far between such memorable affairs as these are in Las Vegas.  Hopefully, this is the first of many more such events to come.
"Flair for Care" luncheon to benefit Nathan Adelson Hospice
Wednesday, May 26th
Wynn Las Vegas