Brasserie Puck at Crystals Hits the Spot
(02/14/2010)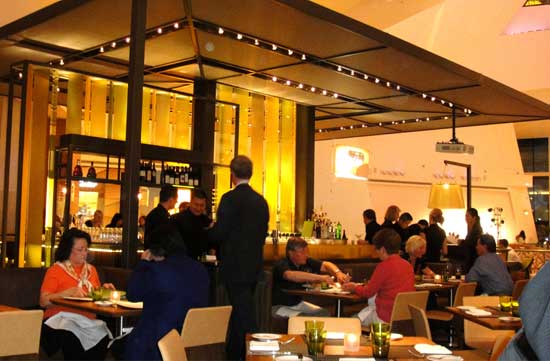 Brasserie Puck at Crystals at CityCenter
I've been simultaneously astounded and intimidated by Crystals at CityCenter. I understand the importance of having a high-end steak and seafood joint like Mastro's Ocean Club, because after buying a $25,000 pair of cufflinks at de Grisogono, a guy wants to nosh off of a two-foot tall seafood tower (I find it all to be very phallic). Also, after purchasing a flirty dress, stiletto heels, and a metallic python clutch at Roberto Cavalli, a lady wants a place to wear her new acquisitions – and where better than a restaurant like Beso, with its sparkly chandeliers and Latin flavor?
That being said, sometimes you want something a bit more casual, where the food is good and sticks to your bones, but still won't break the bank. And if it happens to be the brainchild of a chef we all know and love, so much the better!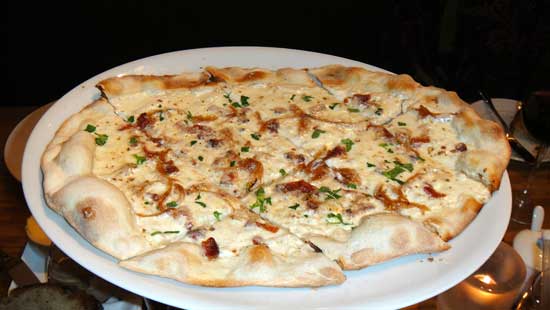 Alsacean Pizza with bacon, caramelized onions and fromage blanc
Enter Brasserie Puck (and when you do, put aside whatever hang-ups you might have about cholesterol), a relaxed restaurant serving Wolfgang Puck's interpretations of French Bistro-style classics made with his own particular California Cuisine influence. (I know, I know – technically a brasserie has printed-menus and professional service, while a bistro might have neither – but the food is similar, and I'm just fond of the term "bistro" – so there!).
Brasserie Puck is open and airy, and takes advantage of the dramatically high ceilings at Crystals. The service is friendly and attentive without being effusive, and everyone is welcomed with a genuine smile.
Puck has taken two long-time members of his Las Vegas team to head-up Brasserie Puck, and each is an asset to the new venue. Manning the front of the house is General Manger Matt Dickerson, who opened Postrio at Venetian in 1999, where he's remained ever since, serving as GM and Partner, until moving over to Brasserie Puck. Taking the reins in the kitchen is Executive Chef Dustin Lewandowski, who also opened Postrio in '99, and has more recently worn the toque of executive chef at Wolfgang Puck Bar & Grill at MGM Grand.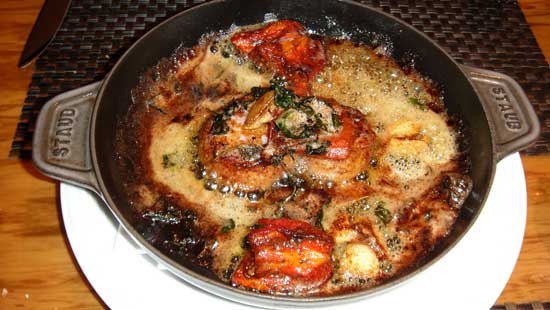 Cassoulet with sea scallops, tomatoes, butter and basil
Upon entering the venue one is in the lounge, a comfy spot in which a guy can take a load-off and sip a nice Pinot while waiting for the missus to finish-up at Kiki de Montparnasse. Then, when you're ready, one of the hostesses will show you to your booth or table. I prefer the booths, as they are perfect for watching the shoppers darting in and out of shops like Paul Smith, Bottega Veneta, and Bally.
But, as with all of Puck's restaurants, while it's the cordiality of the staff that beckons you in, it's the food that keeps you coming back; and Brasserie Puck does not disappoint. Remember, that while Brasserie Puck is the renowned chef's first French restaurant in over 30 years, Puck's background includes time spent in the kitchens at the legendary Maxim's in Paris and Ma Maison in Hollywood, so he's no stranger to French cuisine. As such, when Wolf waves his wand over classic French fare such as steak frites and steak au poivre, they are reimagined as Grilled Flat-iron Steak Frites and Pan-roasted Filet Mignon au Poivre, respectively.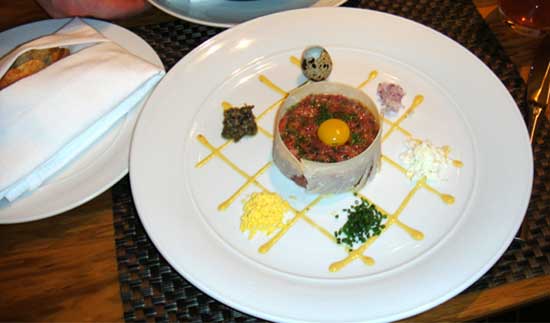 Steak Tartare with Dijon Aioli
There's an Alsacean Pizza with bacon, caramelized onions, and fromage blanc that is at once crispy and creamy and warm and gooey and rich. Also a Cassoulet with sea scallops cooked with butter, tomatoes and basil that is uncovered tableside, with a soupçon of flair.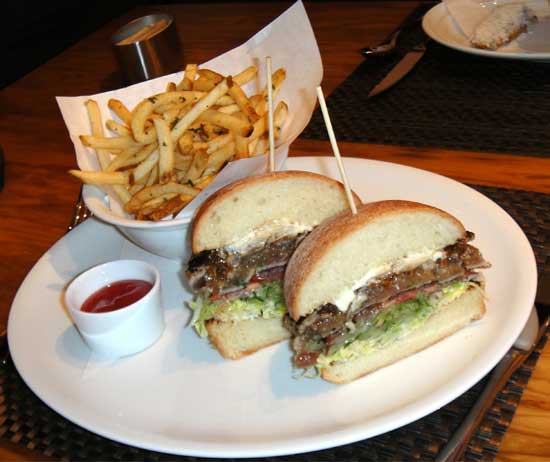 Grilled Tuna Burger with Frites
The Steak Tartare with Dijon Aioli is lean and moist and held-up with strips of shaved Parmigiano-Reggiano cheese (delish!). I had been leaning toward the Brasserie Burger (when in Rome, etc…), but upon the recommendation of my server, Richard, I opted for the Grilled Tuna Burger, and I'm glad I did. A moist and succulent rare tuna steak, served on a freshly baked bun, with scallion marmalade, aioli, a hint of wasabi, shaved red onions and tomato. YUM! Plus, it was better for me. As for my espresso, it was served quickly, and was hot and strong without being bitter – just the way I like it.
I highly recommend Brasserie Puck. The service is wonderful, the people-watching is fun, the décor is lovely, and the food – well the food rocks! (Just remember to take your Lipitor…)







Email

Comments (0)
What's your take on this subject?